Violin is one of the most pleasant sounding musical instruments. It can turn any music to a level that makes any song pleasing to hear.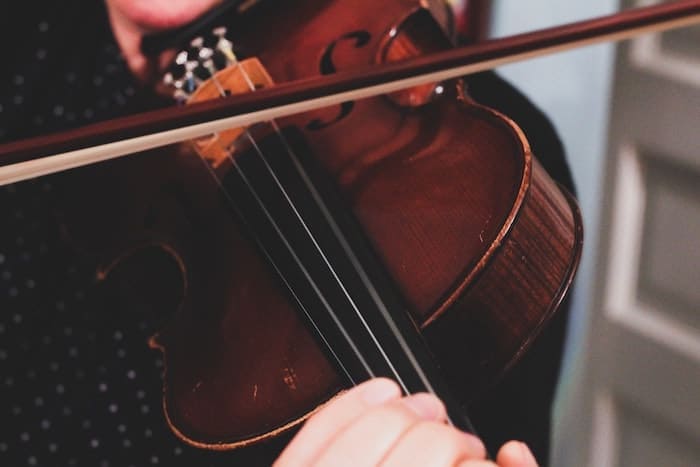 Unlike the Bansuri/Flute we talk of Carnatic and Hindustani versions, Violin is an international musical instrument.
It's up to you to learn the notes with Indian classical or any other.
Did you know that the hardest instrument to master is Violin. 🙂
For a beginner, Violin is great as an instrument to start with. The basics could be learned in the first month. Progressing towards playing different styles on the violin can take years.
Vibrato is a very common technique violinists use, which looks like wiggling on the violin strings and hence changing the pitch.
Are you thinking, Which is the best violin for beginners in India?
In this article, we will discuss the best violins you can purchase in the market – offline or online. Buying the best one must be the goal here.
Quick Picks
Best Violin for Beginners India (2023)
Arctic Apex Violin Kit is the most sold violin kit on Amazon India. This is a beginner and intermediate level violin.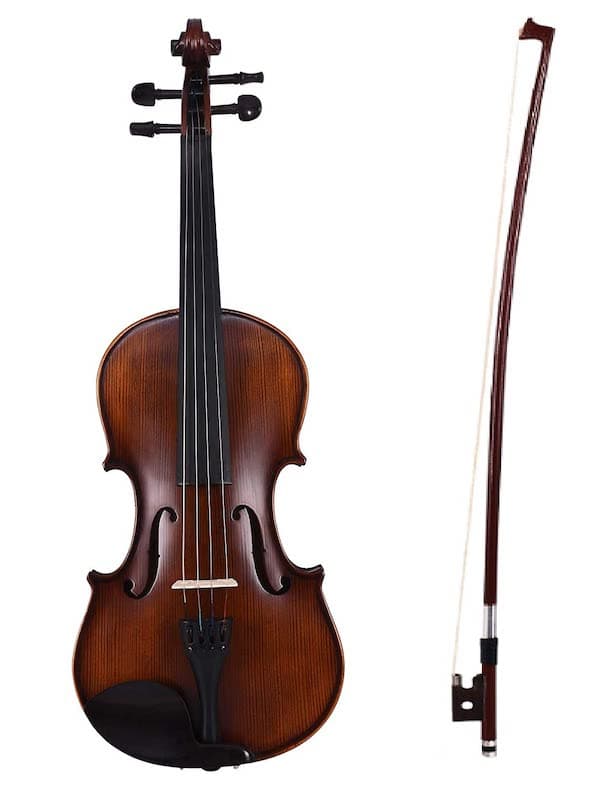 The body is made of the spruce top.
This is much better compared in terms of sound quality to its previous Arctic Neo violin which was made of pinewood.
Specifications
Solid carved spruce top. Solid maple back and sides
Ebony fingerboard, Weight: 2.63 Kg
4/4 Full-Size Violin
As this is a budget violin, it will take time to get used to the sounds and playing it properly.

Arctic Apex violin is one that comes under the best violin for beginners in India. This is the best seller in violins on Amazon India.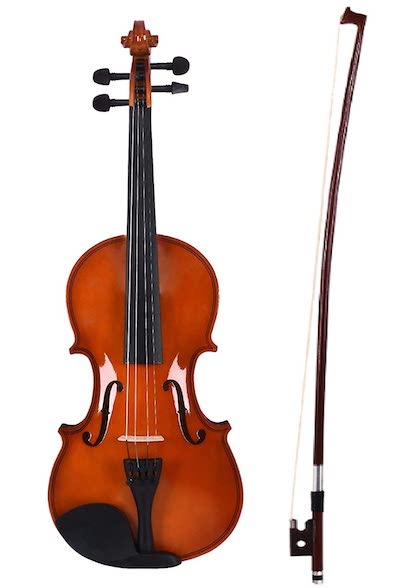 This is a 4/4 full-sized violin, light-weight at just 2.31 Kg.
Specifications
Pinewood top, Maple sides & back
Ebony fingerboard, Weight: 2.31 Kg
4/4 Full-Size Violin
The tone quality of the violin is delightful and pleasant to hear.
The build quality is good and expected in this price range.
The body made of Pinewood top ensures good durability. Also, It has a smooth and furnished fingerboard.
At first, you may find it difficult to set up the bridge. However, you will learn it in no time.
Tuning the violin can be easily done with the help of any tuners. Also before playing, You will need to take out the Rosin to caress your bow hair.

If you are low on budget, then this is the best violin to get started learning this instrument.
This is another best budget violin in this segment. For the price, it does serve the professional quality.
The looks of the violin are what stand out. It's a full-sized 4/4 violin, weighing 1.9 Kg.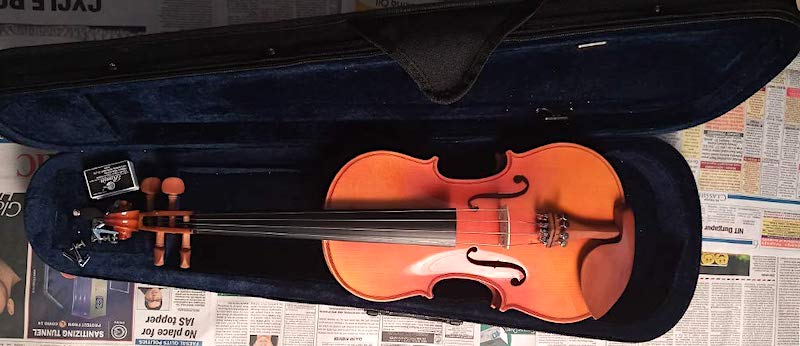 About the sound quality, its tone is bright and warm. For the price, it does deliver the wonderful experience you would want.

Most of the low-budget violins have the downsides of coming with low-quality violin strings. This will result in strings often getting loose & breaking soon.
Instead, I would suggest purchasing good high-quality strings from D'Addario.
Kadence is a well known guitar manufacturer. Their violin productions are just starting up. Kadence Vivaldi Violin is one of their best violin yet.
It's attractive to the colours chosen. It's weights approximately 1.5 Kg, which is very light-weight.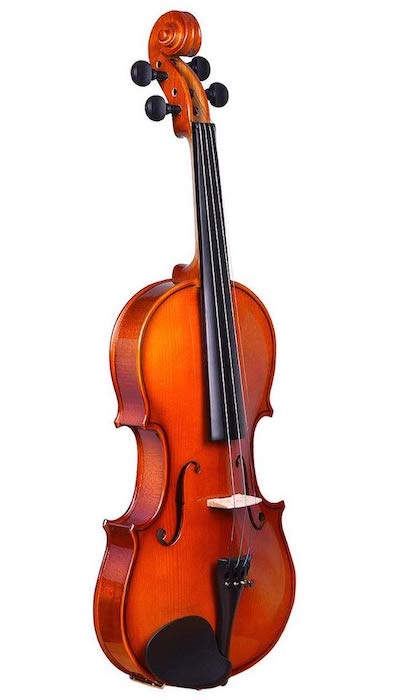 The fingerboard is made of Ebony and body of solid top. Construction and build is very good for the budget.
Specifications
Solid Spruce Top, Gloss Body
Contain's a horsehair bow, a rosin
Weight: 1.5 Kg
It's a considerable option for beginners with certainly the best violin price in India.

This Mendini 4/4 full-sized violin is a little costly, however its due to the fact that its imported from outside.
This is a normal beginner/intermediates violin. It has very good finishing and since it's made of Solid wood, it resonates very well and produces high-quality tones.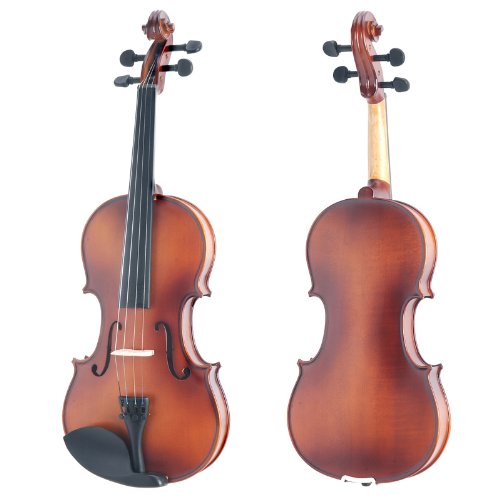 The rosin that comes with it is a bit small/lower quality, but still gets the job done.
Specifications
Solid Wood Satin Violin
Shoulder Rest, Bow, Rosin, and Extra Strings
Weight: 1.75 Kg
The normal pricing of the product outside India is around 6-7k. However, It gets costly when buying from India
It's a good violin for starters and but at this violin price in India, I would skip and consider buying one better in the local offline stores.

Best Violin Brands in India
These are the best Violin brands in India. Not all brands are available to purchase online.
However, you can purchase these easily in an offline store.
1. Yamaha
Yamaha is the only brand that is consistently delivering musical instruments of professional quality.
Even for guitars and musical keyboard, all musical artists recommend Yamaha. Their violins are mostly available only offline.
2. Mendini
Mendini is a musical instrument manufacturer known to produce budget instruments. They make violins with good sounds & affordable rates, ideal for beginners and intermediates.
3. Cecilio
Cecilio is an international brand that makes violins for budget consumers. They are beautifully crafted and build with perfection.
4. Arctic
Arctic is one of the Amazon India's best sellers in Violins. In India, there are people loving the product for the affordable price and its product quality.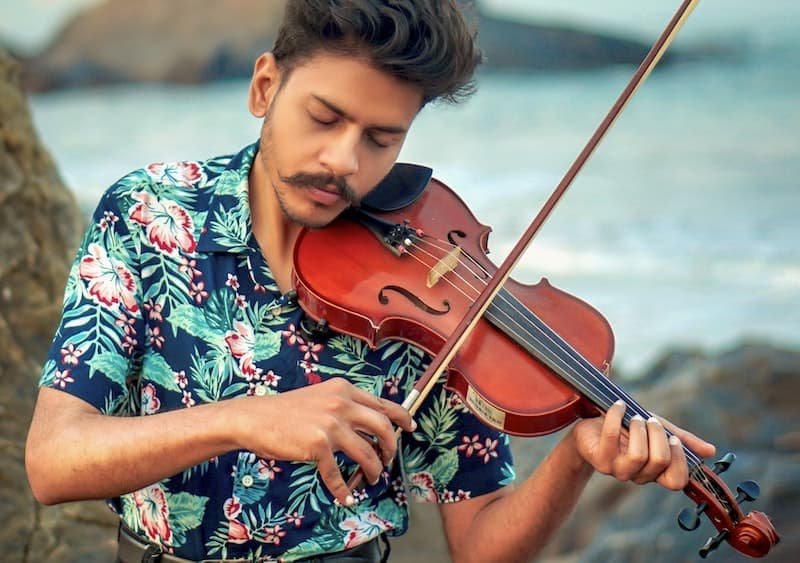 5. Kadence
Kadence is a well known guitar and ukulele manufacturer. They have recently started manufacturing violins.
Kadence is the only musical brand in India that I can vow to have a very good customer support. Their instruments are of very good quality along with their nominal pricing.
Violin Price in India
Violin Price in India starts all the way from Rs. 3,000 and go all the way to Rs. 30,000.
Depending upon whether you are a beginner, intermediate, or expert, the violin you pick can be different.
This is because of the different grades of wood and lower sound quality you get in the lower budget or cheap version. This doesn't mean it's bad for beginners.
If you are planning to take this to an intermediate level, It's always best to make the investment in a little higher budget than the current.
I would personally suggest to keep your budget to Rs. 8,000.
Conclusion
Violin is an amazing musical instrument to master if you dedicated to learning it. That is why Violin is the 3rd most popular instrument in the world.
The practise needs to keep going daily to pace up with playing the violin very well. It will take time and you need to be patient.
Make your best investment now and buy the best in the budget. You can enjoy the rest of the years learning to play it.
Strike it!
For more buying guides and reviews like these on musical instruments go through our website ziggimusic.com