Are you looking for the best flute for beginners in India? There must be a reason for you to look out to buy this musical instrument apart from others.. right?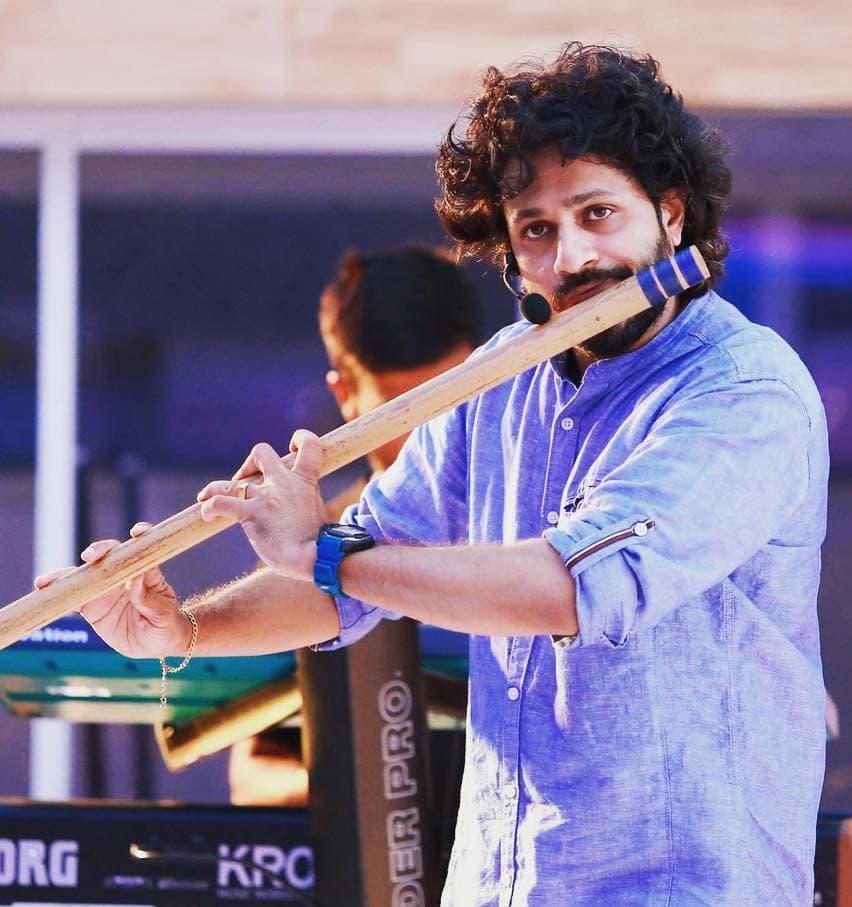 For sure, I can say one thing about flutes which is that flute is the easiest instrument to master in India.
The flute is also the most pleasant sounding instrument, which can make any music into a most loveable tune.
If you are yet a beginner, don't worry we will guide you from zero to making you a hero. We have articles on that too on our website.
As a beginner before mastering the flute, we need to have the best flute in the market. If you fall for the cheap quality ones, I can tell you that you haven't experienced the real tone of the instrument.
In this article, we will guide you on how to buy the perfect flute for beginners in India, the buying factors, and a brief of what you should know about these wonderful flutes.
Cool fact – Now you can call yourself a flutist or fluter or a flute player. 😉
Quick Picks
Best Flute for Beginners in India
One of the top rated flute brands in India is Punam Flutes.
It's founded by Mr. Subhash Thakur, who has worked as a senior flute instrumentalist in Song & Drama division, under I&B Ministry, Govt. Of India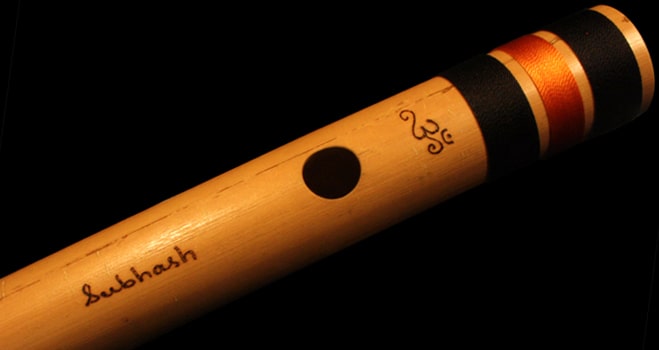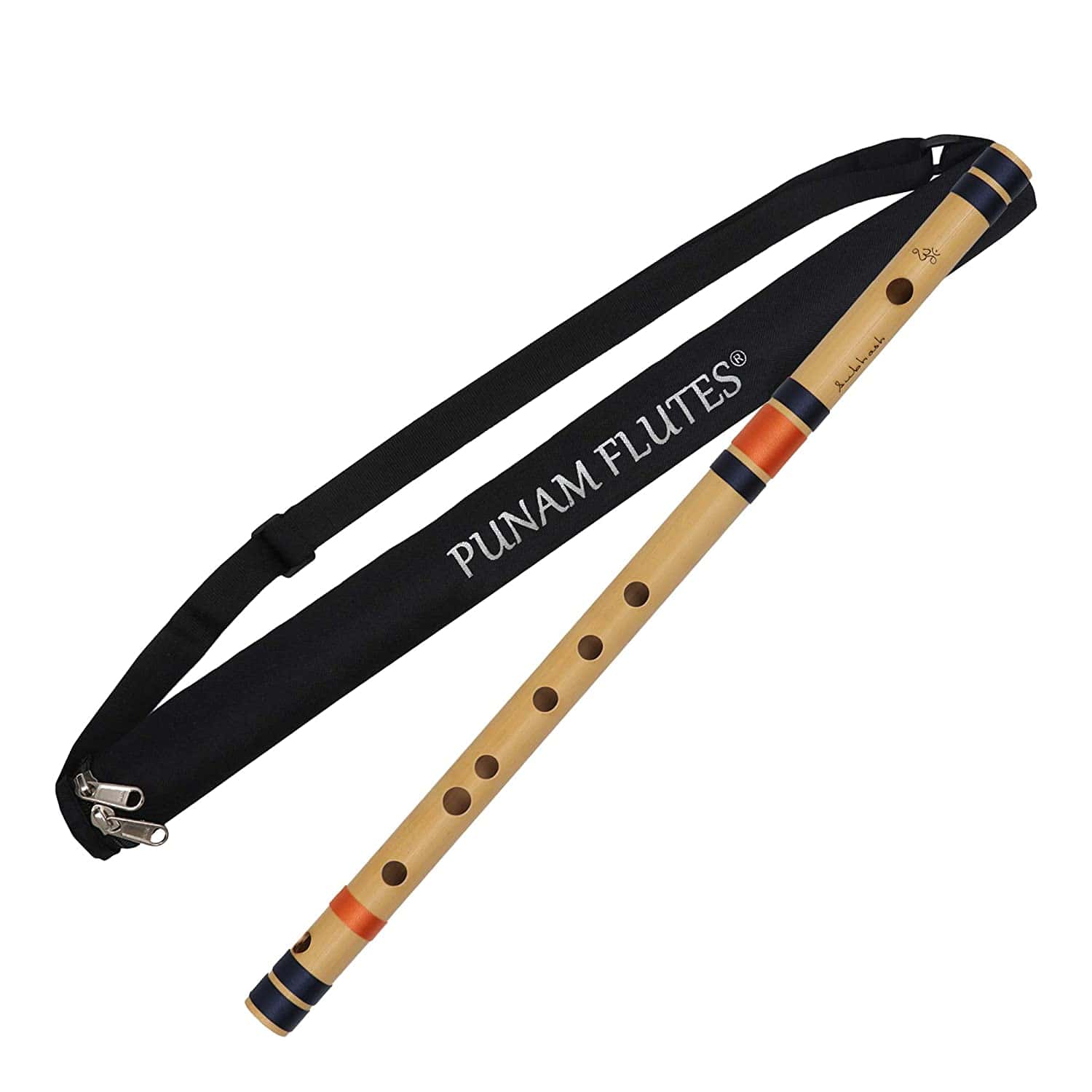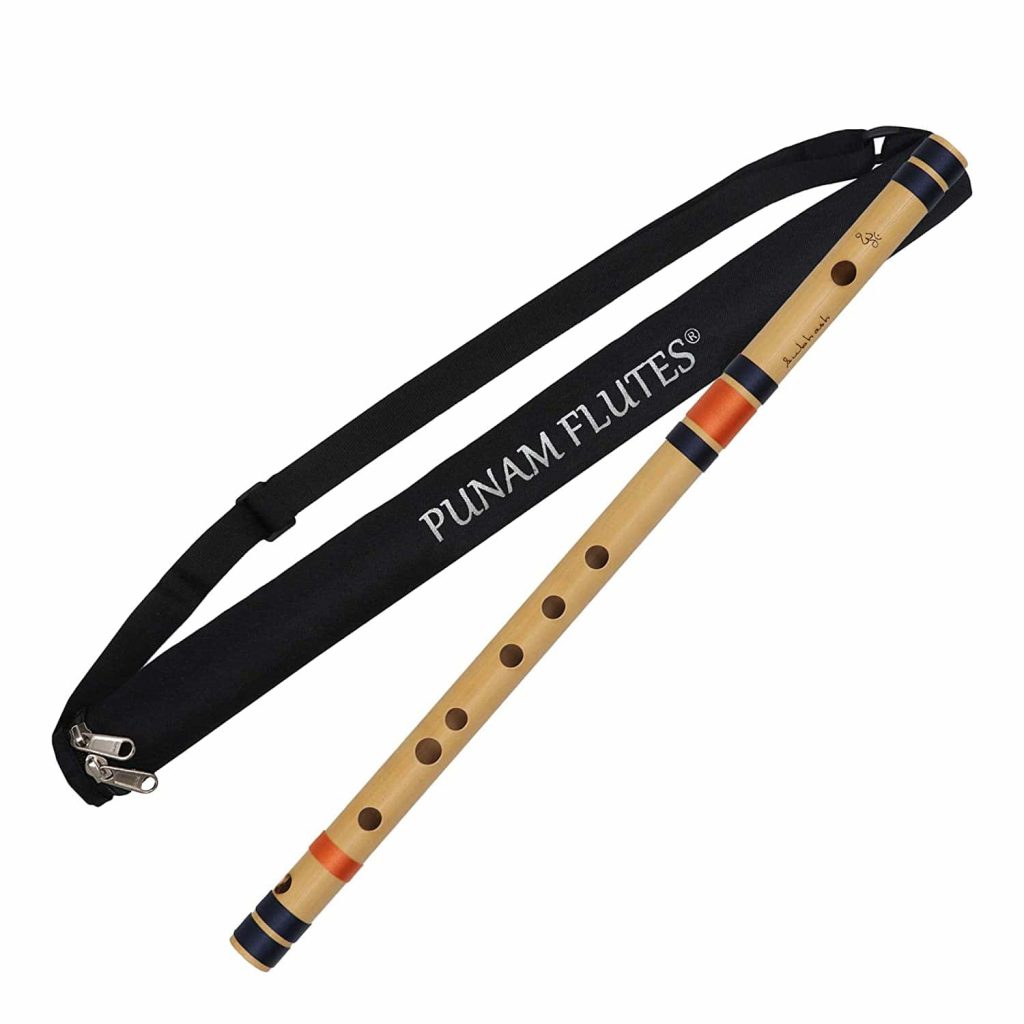 Mr. Thakur makes every high-quality Indian flutes precisely customized for individual requirements – with names engraved, and threads added to your colors.
Same to its looks is its sweet sound quality – Pleasing natural sounds, with great touch on higher and lower tones which makes it the finest choice.
The Punam Flutes C Natural Medium Right Hand Bansuri is Lightweight and has 19 inches length making it very comfortable to hold in hands. You also do get a cover for flute protection.
Totally for playback, it has 7 holes (The 7th hole is an optional hole for extra note).
This beautiful Punam flute/bansuri is priced at a great price, one of the best selling Indian flutes because of its professional quality, beautiful sound and value for money making it a perfect choice.
It's made up of bamboo material, which is the natural best and lasts long and should be the ideal choice for beginners. Honestly, this is the best flute for beginners in India we would recommend you buy.

Unlike the previous one, this Punam flute has a C Sharp medium-scale tone. This scale is also good for starters, with the same amazing sound quality, build & furnishing details.
It's just a small difference and makes the music in a very special end variation according to how you are playing.
C sharp medium sound makes it special to endnotes on a sharper, crisp level, which is very un-noticeable.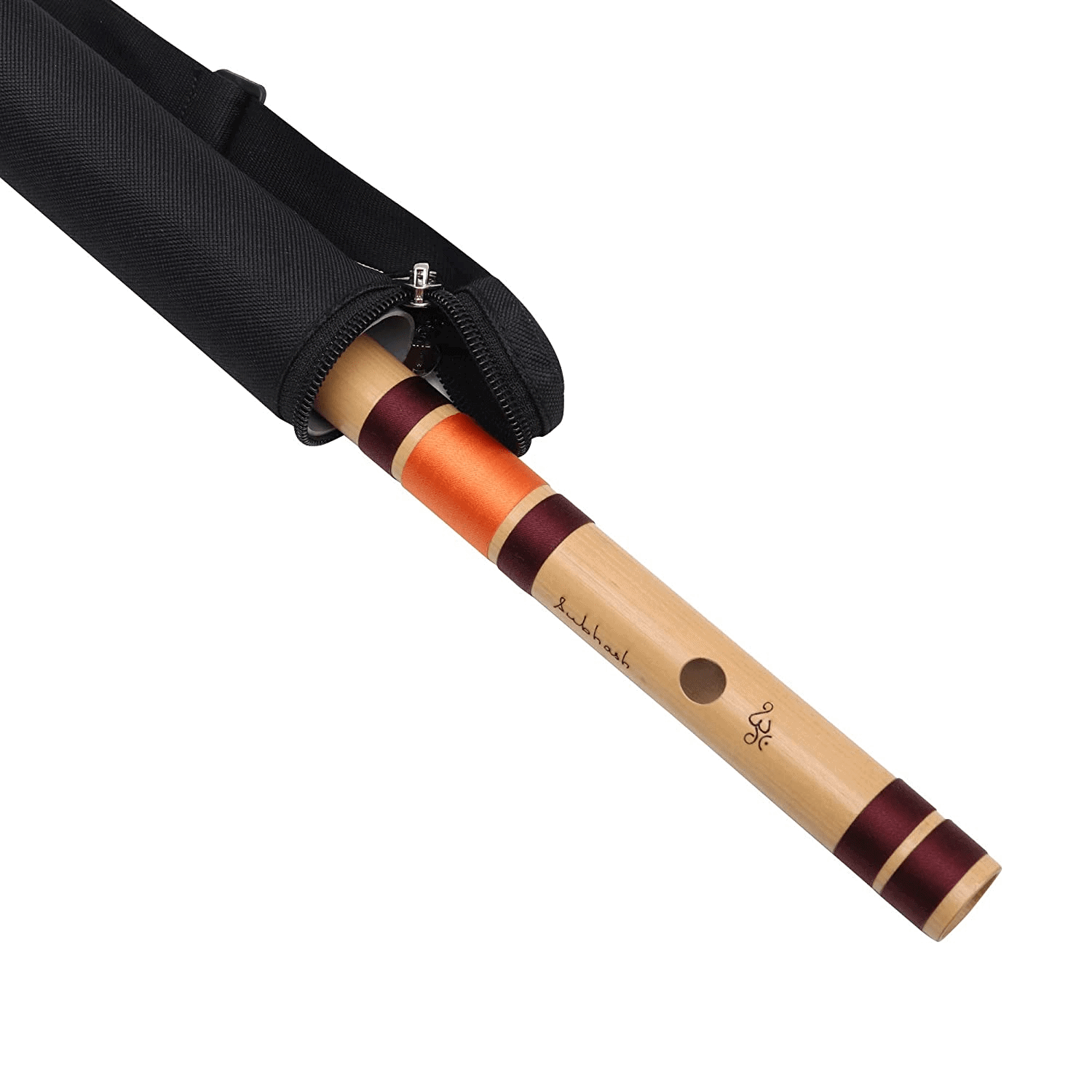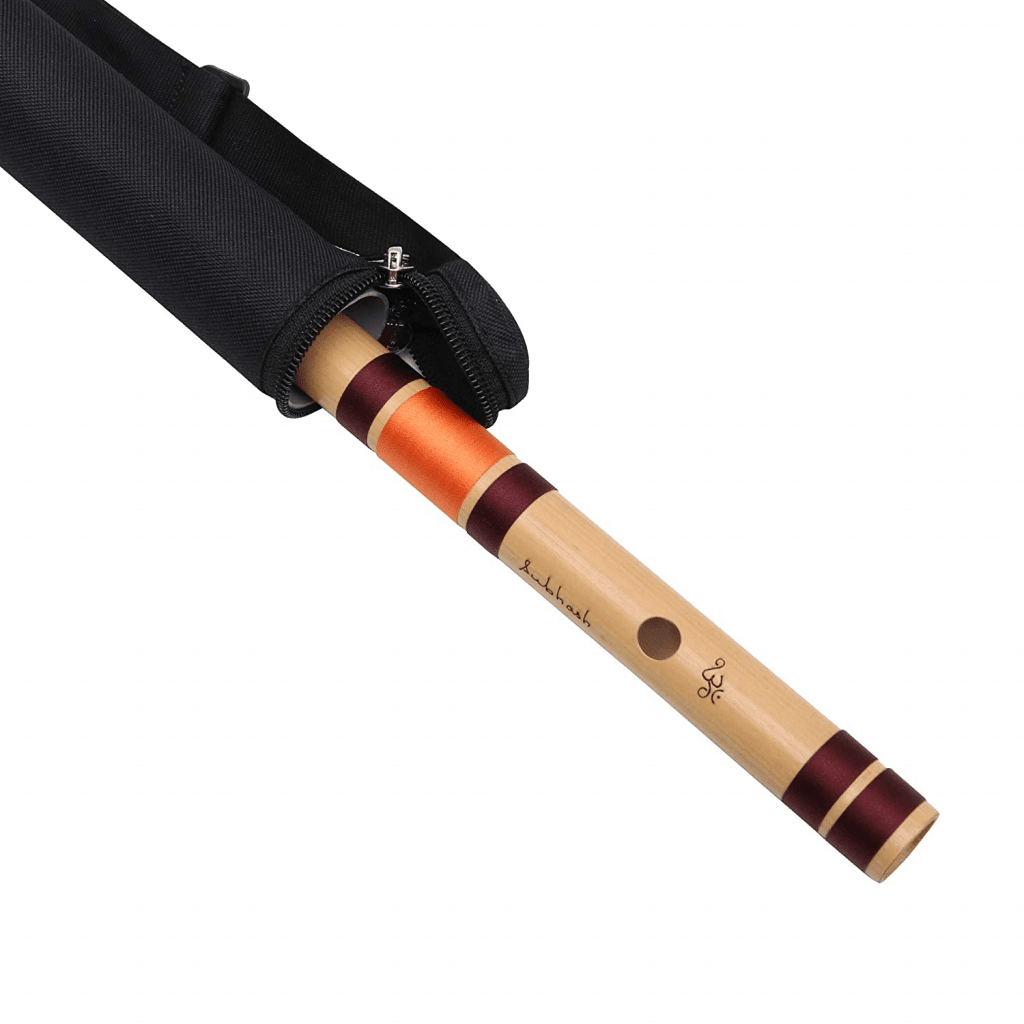 This is also a light flute at just 281 grams, made up of great quality bamboo, and 18 inches approx long. The customer support by Punam flutes is also very polite and professional and hence we recommend you add this as an alternative to your ideal flute list.
If you want to play some Indian classical music, pop music, or light folk music and do some quality studio recordings then you must give this High-quality flute some serious thought as it does really well in various genres of music.
At this price, Its hands down the best value for money flute you can get in the best flutes for beginners in India.

Sarfuddin flutes is another top brand in India that sells India Flutes and Bansuri. This flute is built on Assam bamboo with great furnishing on its sides and it is a professional quality medium sized flute.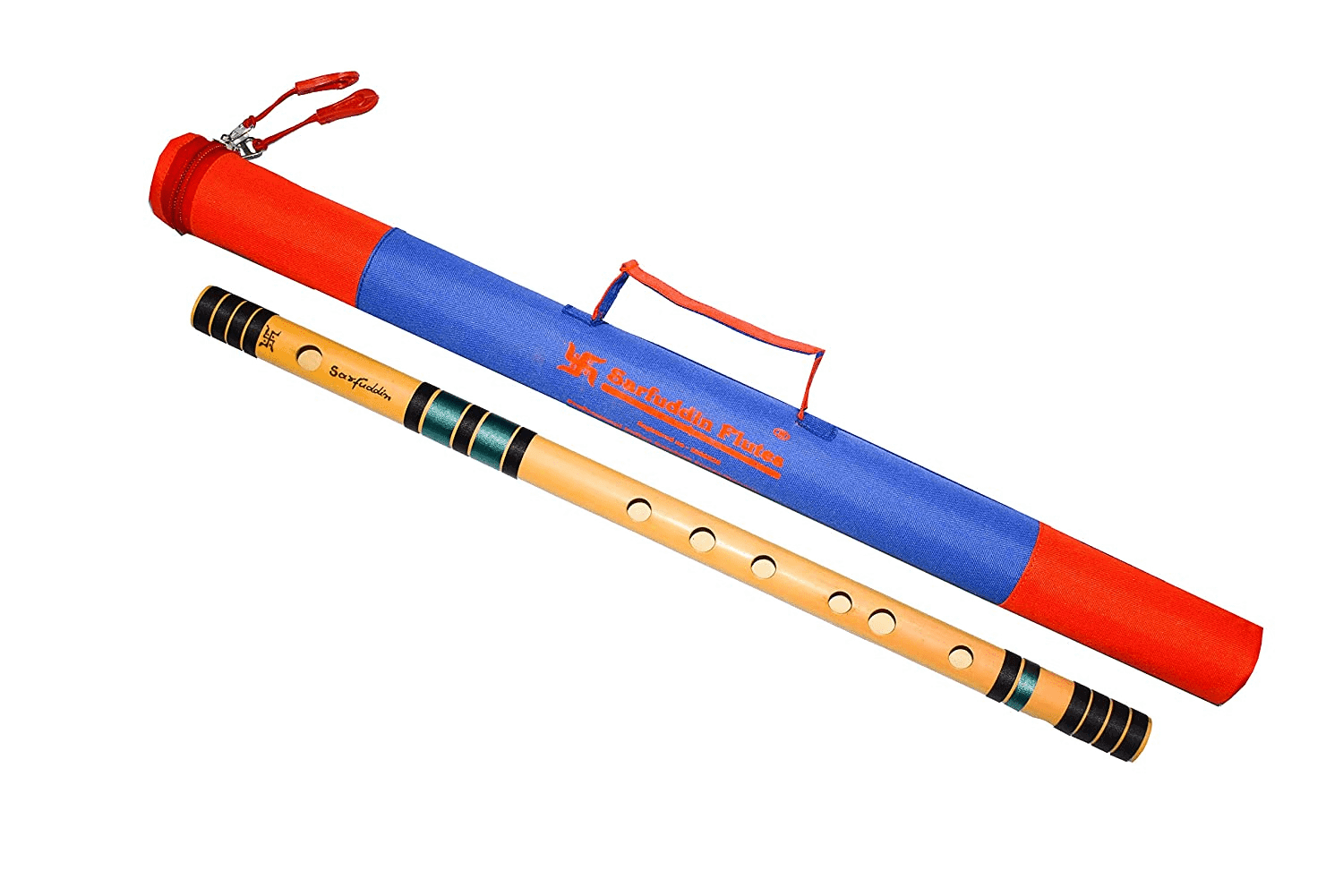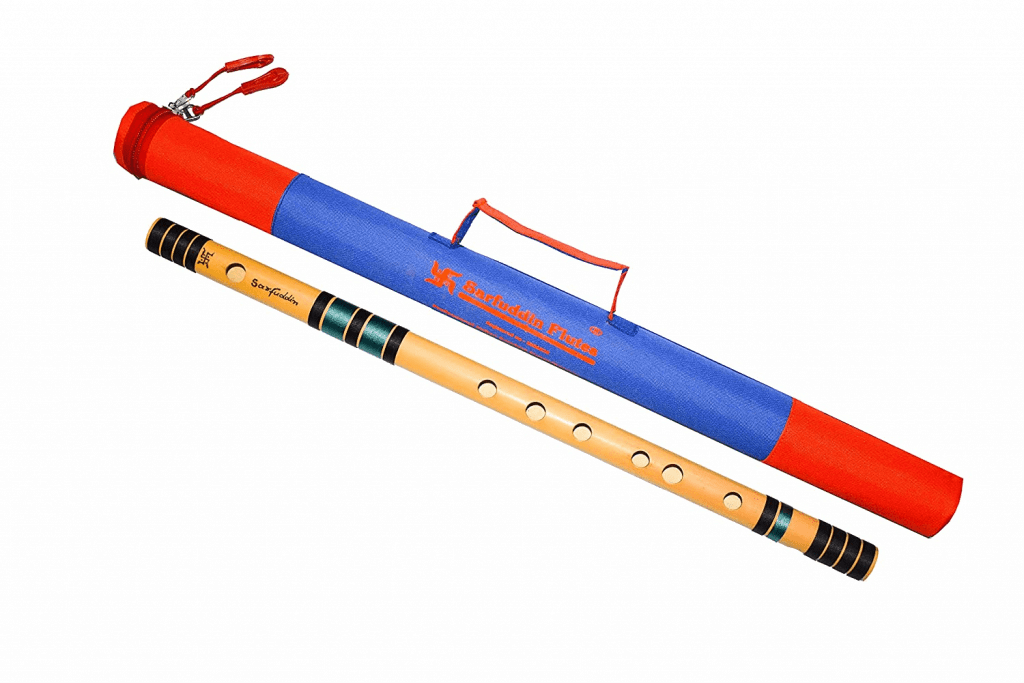 It's perfectly tuned to C Scale and its high-quality sound makes it great for both beginners and intermediates.
This fantastic bamboo flute also comes with a cover for flute and is 19th inches long.
This is a C Natural Medium scaled flute and has 6 holes finger placements
This natural bamboo flute has the best price on Amazon and is one another best flute in this complete beginner series.

The Radhe Flutes PVC Fiber C Natural Bansuri is a specially modified flute, compared to the other flutes like the traditional bamboo flute. This Radhe flute is C Natural Middle scale flute, with its body built up of PVC fiber.
One advantage of PVC pipes is that they don't have any season effect, stays the same, and not get damaged. Whereas Bamboo flutes develop slighter dark shades.
Its quality of sound is tuned very well and is comparable to what Indian bamboo flutes provide. However, if you have a deeper sense of music you'll find that the sound is little on the huskier side.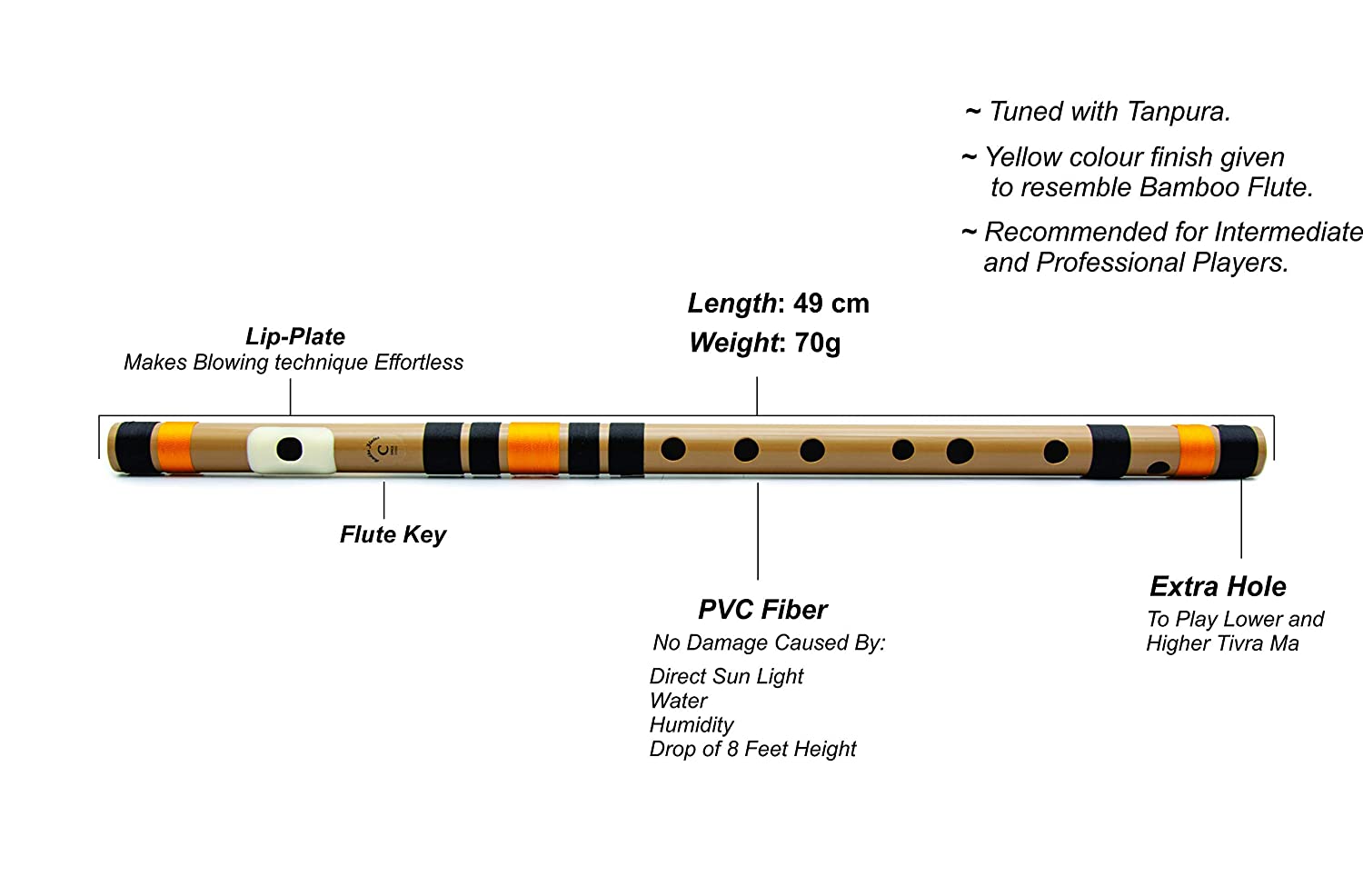 This flute/bansuri is lightweight at 299 grams and has 7 holes(1 extra hole). You can use the lip plate to blow easily if you are having trouble and skip spending time learning the blowing technique.
This comes at a very cheap price. Yes, It's very low in price just because of the build material difference. Its PVC pipe helps it to give long life and hence the price difference.

Buying Factors – Choosing Right Flute


1. Best Flute Scale for Beginners
One of the most important factors that people fail to consider while looking for the best flute for beginners is the right scale range for beginners – C scale middle, E scale, which one would be perfect?
You must keep in mind that this is essential to keep the tone of the flute modulated to the right frequency to hear the pleasant sound you are expecting it to.
The right scale for beginners as suggested by me and almost all flute experts is C- Natural Middle Flutes. Some recommend G scale flute as well.
Yes! You can find this scaled flute used most commonly.
2. Flute Material
Keep in mind, NOT all flute materials are made up of bamboo. They are colored to make the appearance feel like bamboo.
Flutes are normally made up of PVC, PVC Fibres, and Bamboos.
Talking of the PVC material quality, it doesn't have any season effect. It stays the same and does not get damaged easily.
However, you know we believe in quality material and long-lasting products. Therefore we will have to recommend you take up bamboo made flutes in India which is a popular option.
Types of Flutes in India
Indian music as such has a wide range of musical instruments used. In it, there can be a small variation in which it's used. Hence the classification is broadly based on how the instrument is played.
Flute (also known as Bansuri in India) comes under the category of woodwind instruments, which is a type of wind instrument where a soothing sound is produced from the flow of air across an opening.
If you're someone who likes classical music, then you should get yourself a flute.
In India, the Flute is classified according to musical type:
North Indian Hindustani Flute (6 holes) (For hindustani music)
South Indian Carnatic Flute (8 holes) (For carnatic music)
Here is a detailed video guide on the classification.
It's also classified further based on flute scales. Scale means the frequency of the swara "Sa" – 3 upper holes closed.
The frequency of the flute is dependent on the flute length. Longer the length of the flute, the lower the frequency.
We recommend you read the buying factors before buying the flute, scroll below, or click here – Buying Factors – Choosing Right Flute.
Look at the flute of great flutist Sruthi Balamurali is using on this awesome song cover. It's rendered beautiful because of the best investment in flute and of course being a great flute player.
Budget Flute Price
You know the least amount for which you can get a flute from local seller is for Rs. 50, But is that the Indian flute you want? What does it lack? Apart from the crazy affordable prices?
The depending factor on price is the range of tone/the scale of ragas we mentioned (Sa Re Ga Ma Pa). In order to play every tone of the music, you need to choose the perfect flute.
We recommend you keep the budget from Rs.1800 – Rs.3000 for the best flute for beginners.
To get a premium quality flute you've to keep in mind that the better your budget, the best flute would you be getting with great quality sound and beautiful tone.
Conclusion
It's not always easy to find the best flute for beginners in India due to the wide variety of flutes for beginners available. However we have compared them down, and its up to you to choose the best flute you like.
The most pleasant sound from this popular instrument is what made me pick up one of them and learn on the go. You will know how fun that is!
If you fall into the category of absolute beginners or experienced players, having a good quality flute makes you enjoy the melodious tune of it.
Keep practising and make your best buy choice! All the best for your journey in flute playing. Keep increasing your skill level in flute playing.
Wait, one more thing before you go. Playing the right type of flute helps you in improving your lung capacity. So, go! grab some beautiful flutes for yourself.
If you're also interested in guitars then you may have a look at this article on guitar.
For more buying guides and reviews like these on musical instruments go through our website ziggimusic.com
Namaste!