Rock like a superstar with the ultimate magic guitar that fits your budget and dreams, all under 10000 in India!
Finding a guitar in India is a difficult task nowadays due to the wide variety of options available.
A guitar is a soulful and melodic instrument that is one of the most aesthetic-looking musical instruments ever.
There are a lot of factors that you need to be considering while making a purchase of a guitar.
So, some of these factors to consider before buying a guitar are below:
Type of guitar (Acoustic or Semi-Acoustic)
Brand
Size of guitar
Sound quality
The action of the guitar
Build quality
Furthermore, you need to be aware of the price range as well.
You might also need to be buying strings or other guitar accessories as well.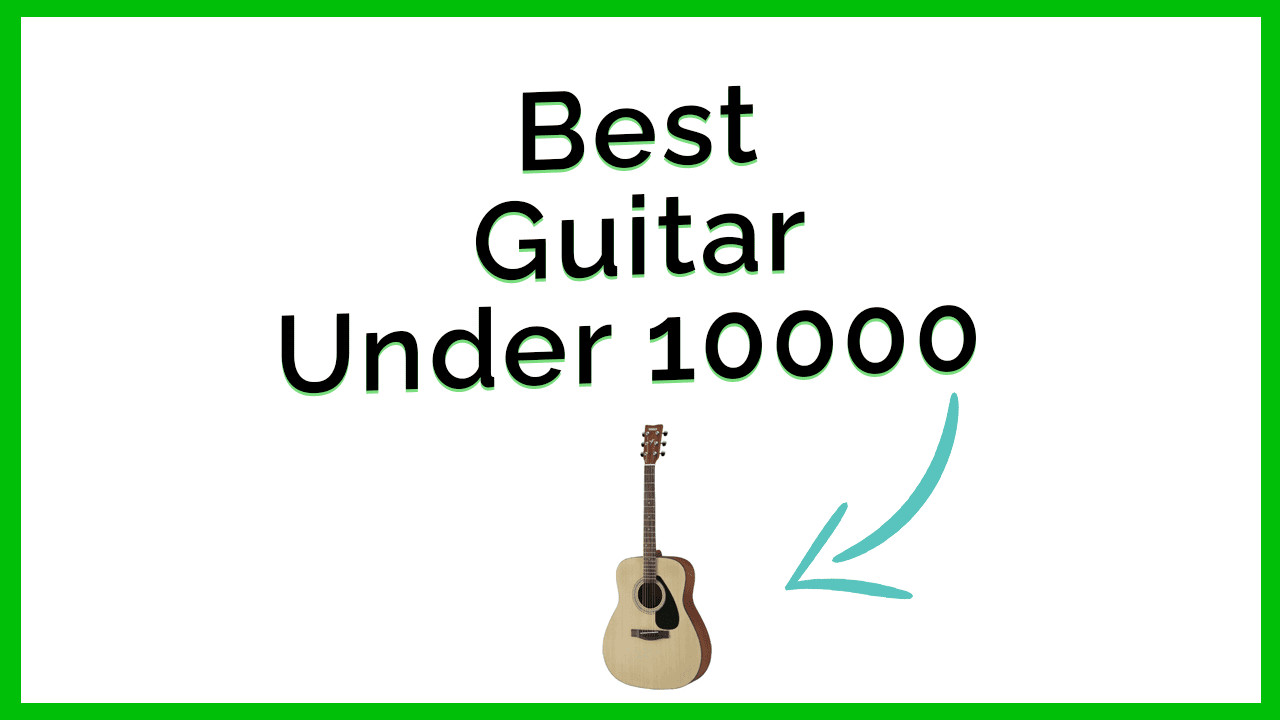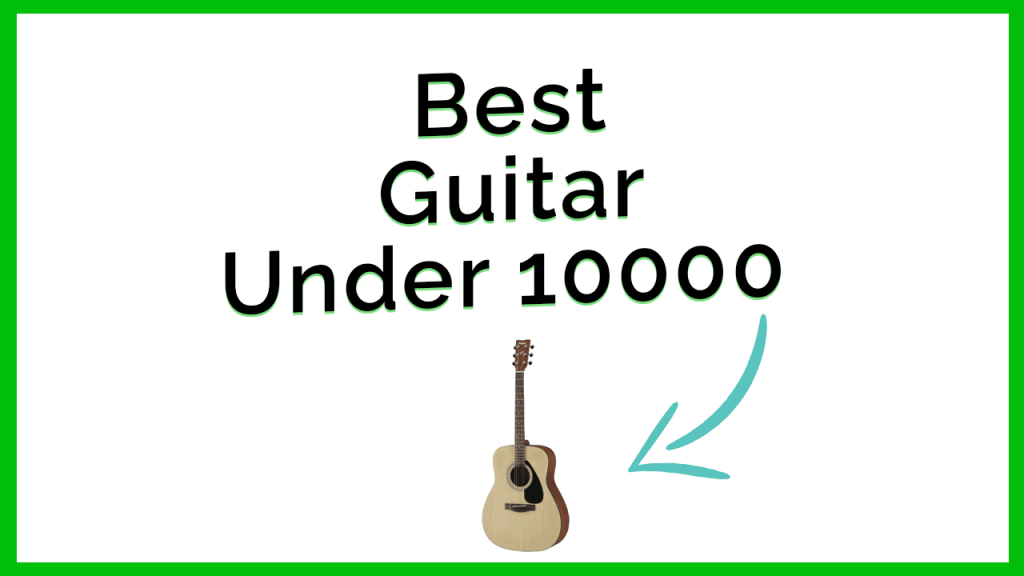 So, below is a quick pick list if you don't have time.
If you have time to go through the in-depth buying guide and reviews that have benefits and drawbacks of the guitars then click on the best guitar under 10000 in India.
Quick Picks
Best Guitar Under 10000 in India
The Yamaha F280 is undoubtedly the best guitar under 10000 and one can blindly purchase it.
The reason is, it is a bestseller on Amazon and it has got several great reviews.
Below is a short video of quick unboxing and sound of the Yamaha F280
Furthermore, when we compared it with other products we found that it did justice to the bestseller tag.
The packaging of the instrument is amazing but you won't get any cover along with it.
You will have to adjust, as a cover can be bought easily later on.
After opening, you will get a warranty card and a guitar manual.
Also, there is an Allen key (hex key) provided inside the package which is plastered to the box itself.
Furthermore, the front side is glossy, and the back has got a matte finish.
The fingerboard given is made out of rosewood and the string material is of stainless steel.
Additionally, the size of the guitar is 40.5 inches.
Overall, this guitar is a must for beginner, intermediate, and professional players or learners.
So, if you are someone who likes to purchase only the top quality items then you must buy this one right away.
Specifications
Size: 40.5 inch
Available Colors: Natural
Guitar type: Acoustic
Pros
Made in India
Comes with an Allen key
Great sound, build and design quality.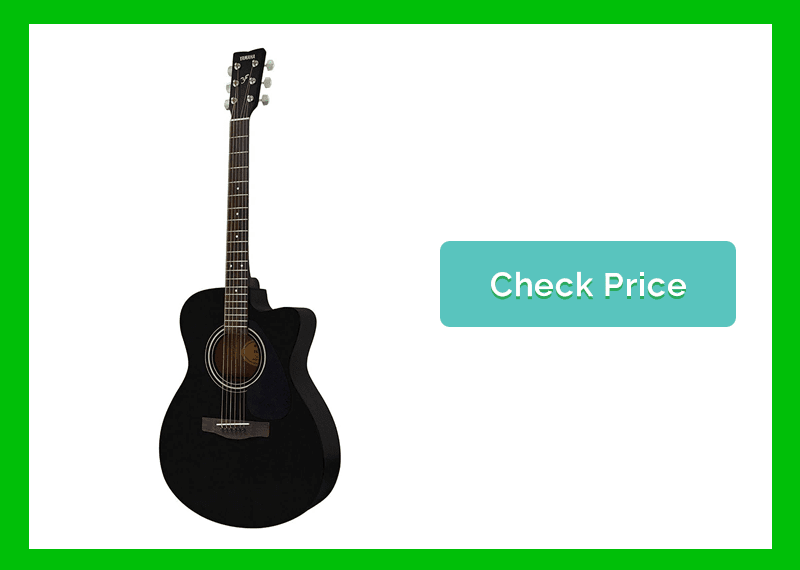 The Yamaha FS100C is yet another marvelous piece of wonder that is full of greatness.
Its sound quality and build quality is so amazing that you will fall in love with it.
Below is a short video of the sound test of the Yamaha FS100C
In the video, you can see the strumming and fingerstyle without any effect so that you can judge its sound quality.
So, when you open the packaging you will find that the strings of the guitar are covered with a paper-like material for protection.
It can be easily removed as it is there as a temporary cover for the strings and fretboard.
Additionally, the size of this Yamaha FS100C acoustic guitar is 40 inches which is concert size.
The bridge is made out of rosewood and there are open chrome tuners given.
Overall, if you want a premium guitar under 10000 let it be for a beginner, intermediate, or pro player this one's for you.
Also, make sure you get it asap as this product gets out of stock frequently due to its demand.
Specifications
Size: 40 inch
Available Colors: Black
Guitar type: Acoustic
Pros
Great sound quality
Nice build quality
Looks amazing and is easy to carry
Cons
Accessories are not provided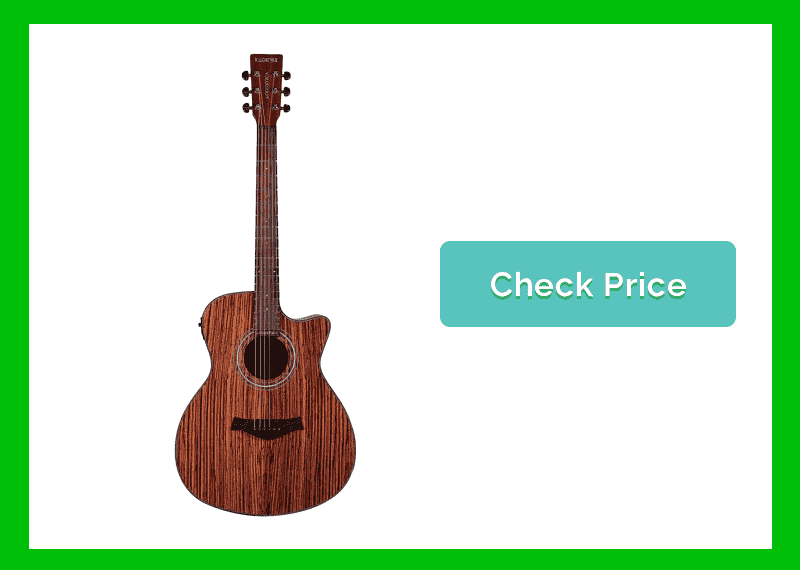 The Kadence A05 is an electro-acoustic or semi-acoustic guitar that is priced reasonably.
While unboxing this products package you will notice that there is a free padded bag included inside.
Below is a short and quick unboxing and sound test of the Kadence A05 semi-acoustic guitar
So, the size of it is 40 inches and it comes in a unique-looking Zebra wood color.
Furthermore, there is a built-in truss rod that helps in making the neck durable.
Also, there are a total of 21 frets in this Kadence Acoustic A05 Guitar.
The sound quality, playability, and build quality are amazing and any type of player can easily play this instrument.
So, if you're interested in getting this beautiful musical instrument, then shop now!
Specifications
Size: 40 inch
Available Colors: Brown Color
Guitar type: Electric-acoustic/Semi-acoustic
Pros
Looks spectacular
Great choice for beginners
Playing action is low
Cons
There is a little problem of fret buzz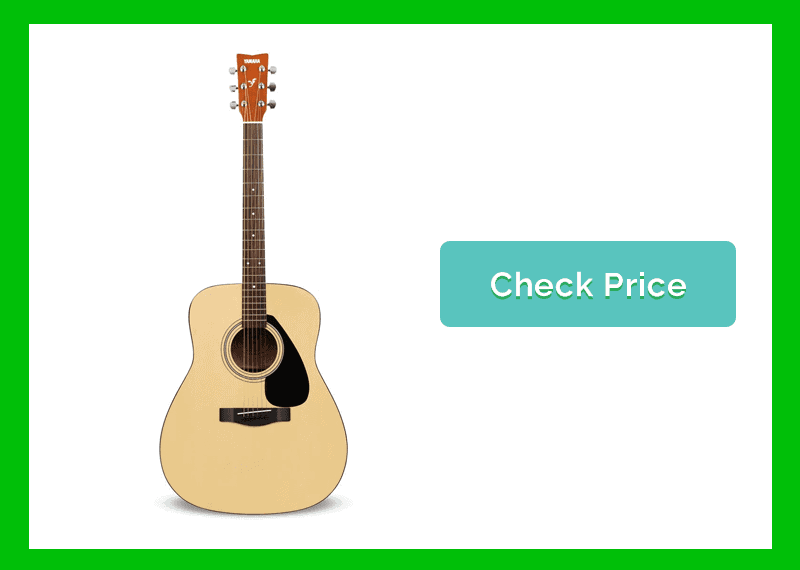 The Yamaha F310 is without a doubt an excellent acoustic guitar under 10000 rs in India.
Before you move ahead, check out the tone of the Yamaha F310 below
It sounds amazing and the sound is very pleasant to hear, right?
That is the quality that Yamaha is known for and this time too it stood up to the expectations.
When you unbox it, you will notice that the F310 comes with a spruce top that has a rich tone and is very reliable.
Furthermore, when you open the package you will get a warranty card and an owner's manual.
The backside looks glossy and has got a premium finish and even the front looks spectacular.
Additionally, the fretboard is made out of rosewood and the overall build is great.
So, if you're in need of getting a top-end guitar then this must be on your priority list.
Specifications
Size: 40 and a half inch
Available Colors: Natural
Guitar type: Acoustic
Pros
Good for beginners, amateurs and pros
Less injury to fingers and easy to play
Sound resonates perfectly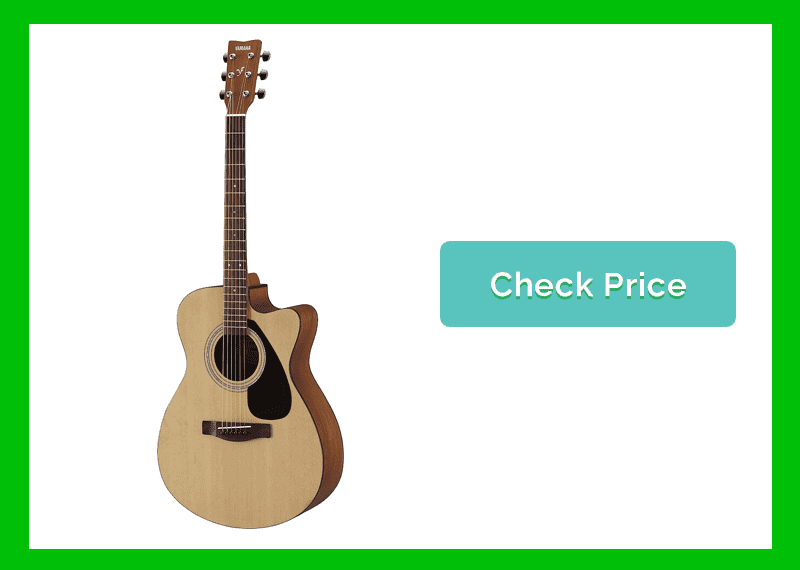 If you're someone who is returning all the guitars and is confused about the right one then the Yamaha FS80C should be your choice.
You cannot go wrong with this because it is great for beginners.
Below is a video of the unboxing and review of the Yamaha FS80C
So, as you can hear the pleasant sound of this instrument in the above video, you must be like WOW! Right?
After you unbox the package you will notice the amazing guitar which looks great.
The overall feeling of it is similar to the Yamaha F280, but the main difference is that the Yamaha FS80C is a concert cutaway and the Yamaha F280 is a dreadnought style acoustic guitar.
When you unbox it then you will see that the front side is a gloss finish and the backside and even the neck is of a matte finish.
Also, there are options on Amazon where you can order a combo and you will also be getting a guitar bag.
So, it is a great musical instrument and can help you a lot if you're a beginner, and for that reason, you can get it asap!
Specifications
Size: 40 inch
Available Colors: Natural, Black
Guitar type: Acoustic
Pros
Playability, build and sound quality are great
Ideal for first time buyers
Made in India
Cons
Not comfortable for fingerstyle playing

Conclusion
Finally, you've reached to the end of the best guitar under 10000 in India.
Fact: If the action of the guitar is high then you can take it to a luthier to get it fixed
Hopefully, this article would have been helpful to you in making the right purchase decision.
The top guitar brands under 10k are very less and mostly there are a lot of Yamaha guitars.
Furthermore, the quality that they provide is extraordinary so you can choose them any day.
Additionally, even the Kadence brand is providing great quality musical instruments for beginners, intermediate and professional players.
It all boils down to your personal preference now as all the videos are also given in this article itself.
So, don't waste any more time and go get yourself the right one and start practicing so that one day you would be called a "Guitarist".
Also, if you think that you need something more affordable then you might be interested to check out the best guitar under 5000 in India by clicking here.
For more such buying guides and articles on musical instruments and everything related to music, keep visiting ZiggiMusic.com